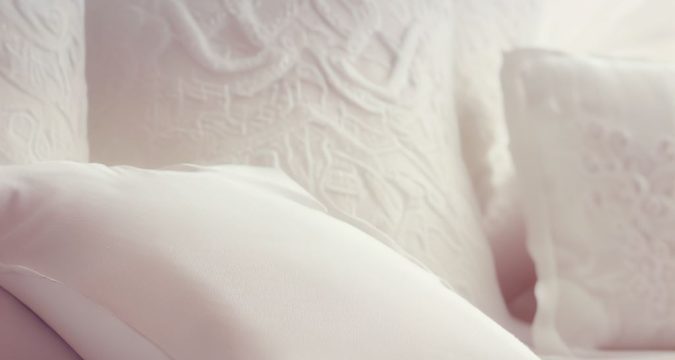 The Right Pillow For Neck Pain
Are you tired of waking up with a stiff and achy neck? If so, Here I propose a guide on how to choose The Right Pillow For Neck Pain.
You're not alone. Neck pain can be a daily struggle for many, but there's a simple solution that can make a world of difference: the right pillow for neck pain. In this comprehensive guide, we'll explore how choosing the perfect pillow can alleviate your discomfort and help you wake up feeling refreshed and pain-free. Say goodbye to those restless nights and hello to the key to a more comfortable sleep. Let's dive into the science behind finding the ideal pillow to prevent neck pain and get you on the path to better sleep and overall well-being.
Neck pillows to Prevent Neck Pain
If you often suffer from neck pain in the morning, you should consider buying a special neck pillow (also called a neck support pillow) to combat neck tension. They can provide optimal support for your neck, ensuring a comfortable night and a refreshed morning. But what do you have to pay attention to? Would you rather have a croissant pillow (also called a neck pillow)? Or rather a normal pillow with a special elevation for the neck? Our article lists the differences between croissant pillows and normal-shaped neck support pillows, introduces the different materials and gives purchase recommendations. Neck pillows are used for a normal night's sleep, but the support is also welcome when traveling or can ensure a straight posture of the cervical vertebrae when working on the PC. We have put together a selection of recommended neck pillows.
1 What is a neck pillow and what is it used for?
2 How do neck pillows help with tension?
3 How do you find the right neck support pillow?
4 Important: The inner material
5 neck support pillows: recommendations
6 Frequently Asked Questions
What is a neck pillow and what is it used for?
Anyone who uses a neck pillow primarily wants to relieve pressure on their neck to avoid neck pain and be in a comfortable position throughout the night. If the space between the head and shoulder area is filled, the head receives comfortable support, the spine remains straight, and the muscles in the neck and shoulder area relax. The spine in the neck can no longer be overworked.
All neck support pillows are higher than regular pillows and noticeably firmer. Thanks to its rigidity, the head remains straight during sleep and does not tilt to the side. Side sleepers prefer high pillows because the area between the neck and shoulders is well supported and this helps prevent tension. People who sleep on their stomachs or back often do not need these pillows.
How do neck pillows help with tension?
Our cervical spine is a sensitive area. More sensitive than some might think. Pain in the throat, neck, and neck area occurs quickly, especially when the head is bent during sleep. This can happen while lying down and sitting (e.g. when traveling).
These neck pillows completely prevent bad posture by supporting the neck area and putting the neck and cervical spine in an upright position. This can be when lying down by preventing the shoulders from also resting on the pillow or when sitting as a travel pillow by ensuring that the head does not fall to the side on the shoulders and the cervical spine does not bend.
How do you find the right neck support pillow?
Neck pillows are commercially available in different shapes. Before purchasing, you should carefully consider what characteristics an orthopedic pillow should have. For example, someone who sleeps on their side will need a higher pillow than someone who sleeps on their stomach. Do you want a night pillow or a better portable version? It is best to perform the "sleep test" on the pillow of your choice. We suggest the best ones at the end of the topic.
1. Travel pillow
This pillow is designed for use when relaxing on the couch, working at the computer, or while traveling. For example, neck pillows are good, although less suitable for side sleepers, they support the neck while sleeping in a sitting position. In this way, stress can be effectively avoided.
When traveling by plane or train, neck pillows also prevent the head from twisting to the side, as they physically prevent this movement and thus prevent neck strain. This means that you can sleep comfortably even while traveling. Travel pillows are usually cheaper than their dorm counterparts
2. Orthopedic neck pillows
In contrast to a neck pillow, these pillows have an ergonomic shape that adapts to the neck and shoulder area. With its ergonomic design, it is designed to fill the gap between the mattress and your head when lying down. This adjustment supports the natural alignment of the spine and keeps the cervical vertebrae straight, helping to prevent tension. Side sleepers especially benefit from a special side sleeper pillow with a bump that comfortably supports the neck area. This keeps the spine upright and effectively avoids neck tension.
On the other hand, back sleepers need a low pillow so that the spine does not rise too much. For stomach sleepers, there are additional pillows for sleeping low on the stomach so that the neck vertebrae do not bend as much. By the way, there are also special anti-snoring pillows for back sleepers.
Important: The inner material
To ensure that your head and neck are perfectly supported while sleeping, your neck support pillow should have a certain level of firmness. But it doesn't have to be difficult either. The most commonly used materials are memory foam, gel foam, and latex.
Visco Foam: Also called memory foam. Thermo-elastic material with good support. One advantage is that it adapts perfectly to the body and remains in good condition for a long time (hence the memory in the name). Therefore, only people who do not move much while sleeping should use a memory foam pillow. At room temperature below 18 degrees, Visco foam pillows become quite firm. Perfect for neck pillows or similar rice pillows.
Gel Foam: The advantages of gel foam are that it is very flexible and breathable. Bed mites don't stand a chance here. Therefore, the gel foam pillow is very suitable for allergy sufferers. It does not react to heat or cold, but only to body pressure. Thanks to its rapid recovery power, it returns to its original shape in a short time. But it is less suitable as a travel pillow or neck pillow.
Latex, which is also used in mattresses, is particularly durable, flexible and breathable. It quickly releases moisture that penetrates from the body to the outside. This material is especially suitable for people who sweat heavily at night.
Correct care
The neck support pillow is used daily and therefore needs to be cleaned regularly. But only a few pillows are made of washable material. Ideally, you replace fillings made from natural materials at least twice a year. You can machine wash the cover normally, but at a temperature of no less than 60 degrees. Latex does not tolerate machine washing. Therefore, pillows must be well-ventilated, and covers can be placed in the washing machine.
The foam is machine washable but is susceptible to severe abrasion due to mechanical processing. Cracks can develop over time. After five years at the latest, the foam becomes hard and needs to be replaced.
neck support pillows: recommendations to find
The Right Pillow For Neck Pain
There are many different neck pillows available in stores. Shape, height, materials, and features are variable, so get enough information before purchasing. We have selected some neck pillows as examples that have received good reviews, especially regarding their effect on stress.
JYOKO Baby Neck Pillow
This lightweight neck support pillow is specially designed for older babies and toddlers. Supports baby's head, shoulders, and cervical spine when they sleep during car rides, preventing neck pain.
Orthopedic Neck Support Pillow from DONAMA
Our orthopedic neck support pillow is well-suited for side, back and stomach sleepers. The height of the pillow supports the spine and prevents tension in the neck muscles. Different sizes are offered.
Cassimium Orthopedic Neck Support Pillow
The neck pillow with a flat and raised side relieves pressure on the cervical spine, shoulders, and back. It is suitable for side and back sleepers. Improved sleeping posture prevents stress and also aims to reduce snoring.
Daydream neck pillow
This neck pillow has proven itself as a travel pillow for many buyers. Whether you are in the car, on the plane or on a train trip, the pillow comforts the neck and gets you to your destination without neck pain, or headache. One advantage: Microbead filling ensures good elasticity.
Homka Orthopedic Pillow
The pillow is butterfly-shaped and is recommended for many different sleeping positions. People who often turn over during sleep, side sleepers, and those who often place their arms on or under their heads find a neck pillow especially useful. Its height supports the natural position of the neck and keeps the head in a comfortable position. The armrests support comfortable sleep thus avoiding neck pain and back pain.
Important: It is not only the pillow that plays a role in ensuring a comfortable sleep. The right mattress is almost more important. Our comparison test compares the best mattresses. But before you buy a new mattress, you should ask yourself at least 3 questions that are crucial to a good mattress.
Would you like to learn more about sleep? Then follow us on Instagram, Facebook and Pinterest.
Frequently Asked Questions about to choose The Right Pillow For Neck Pain.
Why do I need a neck pillow?
A neck pillow is a special pillow intended to relieve pressure on the neck. The space between the head and shoulders is filled, which means the upper spine is straight and overextension no longer occurs.
What types of neck pillows are there?
On the one hand, there are the U-shaped neck pillows. They are often filled with rice or small plastic balls and are especially useful when traveling by plane or train. On the other hand, there are medical pillows that support the neck when lying down.
What interior materials are there?
There are three main types of pillows: visco foam (also memory foam), gel foam, and latex. Advantages and disadvantages vary for each material. What matters about these pillows is their breathability, flexibility, and ability to be cleaned. You can learn more about the different types of foam and their advantages and disadvantages under "Important: Interior material" above.
How do I take care of my neck pillow?
If you have a foam-filled pillow, you should only wash the cover. Foam and gel usually cannot be cleaned in the washing machine. Here it is often enough to wipe it with a damp cloth. Wash the different covers according to the instructions, although one cover should be washed at least 60 degrees.